Rebecca Johnson
UX designer
Storytelling VR Exhibit
A thesis project to create a virtual storytelling space to elevate the voices of people of color
Storytelling VR Exhibit
The project is a virtual reality exhibition that will showcase stories from people of color. There will be a theme for each exhibition so there is a cohesive topic amongst the stories on display. During the experience, users will be able to move about the virtual space and interact with videos, images, poems, letters, narration, and music submitted by the storytellers. In order to be inclusive and accessible, there will also be options to experience the project using a VR headset as well as a device that can use WebXR.
Timeline:
4 months
Team:
Solo Project with Advisors
Role:
UX/UI Designer
Tools:
A-frame, GoPro Fusion, TBD
Background
There is a need for more representation of people of color in most areas of interest. In the fields of design and technology, there are programs in place to help bridge the educational gaps in learning the skills needed to pursue those careers. However, I want to see more technology being designed to embrace and amplify the voices of the underrepresented. In the VR industry, there are new experiences being developed that put users in the shoes of marginalized people so they can better understand those experiences: for example, "I Am A Man", "Everyday Inclusion", or Google's Immerse VR videos. My perspective on storytelling is to hear from more than just one or two people so that an expansive quilt of personal stories can shift what others believe is reality. A few other inspirations come from the storytelling methods used by TED Talks and The Moth. I proposed a project that will consist of a themed showcase that will include different mediums of storytelling displayed in a virtual environment. This exhibition will allow users to move about the space and interact with displays of videos, images, poems, letters, and music. For goals of accessibility, there will also be a WebXR platform so that those without VR devices can still share in the experience. The long term goal of the project will be to have new themes periodically that bring more stories from real everyday people of color to the space so they can tell their stories.
Interviews
I chose to conduct both remote and in-person moderated interviews to gather more information on what storytellers and visitors to the virtual platform would need from the experience.
Participants:
3 participants - 2 male people of color and 1 white female identifying

Questions gathered info on both participant storytelling and listening to stories

All participants were between the ages of 25 and 35 years old
Desires:
Accessible methods of consuming the stories (visual and audio aids)

Storytelling space is one that promotes inclusivity and confidence for all

Experience has an impact on others and is a learning experience
Pain Points:
Making sure there is a connection the listeners feel when going through exhibit

Storytellers feel unsure about standing behind potentially vulnerable content

Lack of experience consuming stories in a virtual space
Personas
Based on the interviews I created two personas. One is based on the people that will be entering the finished product and the other is based on the storytellers that will be submitting content to the design. I used them to inform my decisions during the process of collecting content and designing the space.
User Journey
Using the two personas, I made a user journey for the people that will be navigating the storytelling exhibition space. I used it throughout my process of designing an engaging yet accessible space for those who might be inexperienced with the virtual reality world.
Storytellers
4-5 individuals

Diverse non-white racial backgrounds

Participants gathered from personal network
Theme
Main theme:

Takeaway Message:

How people of color build stability in the sense of family and home despite obstacles and oppression
Content
Traditional Videos, 360 Videos, Photos, Digital Art, Music, Poetry, Writings, Narrative Voice, Quotes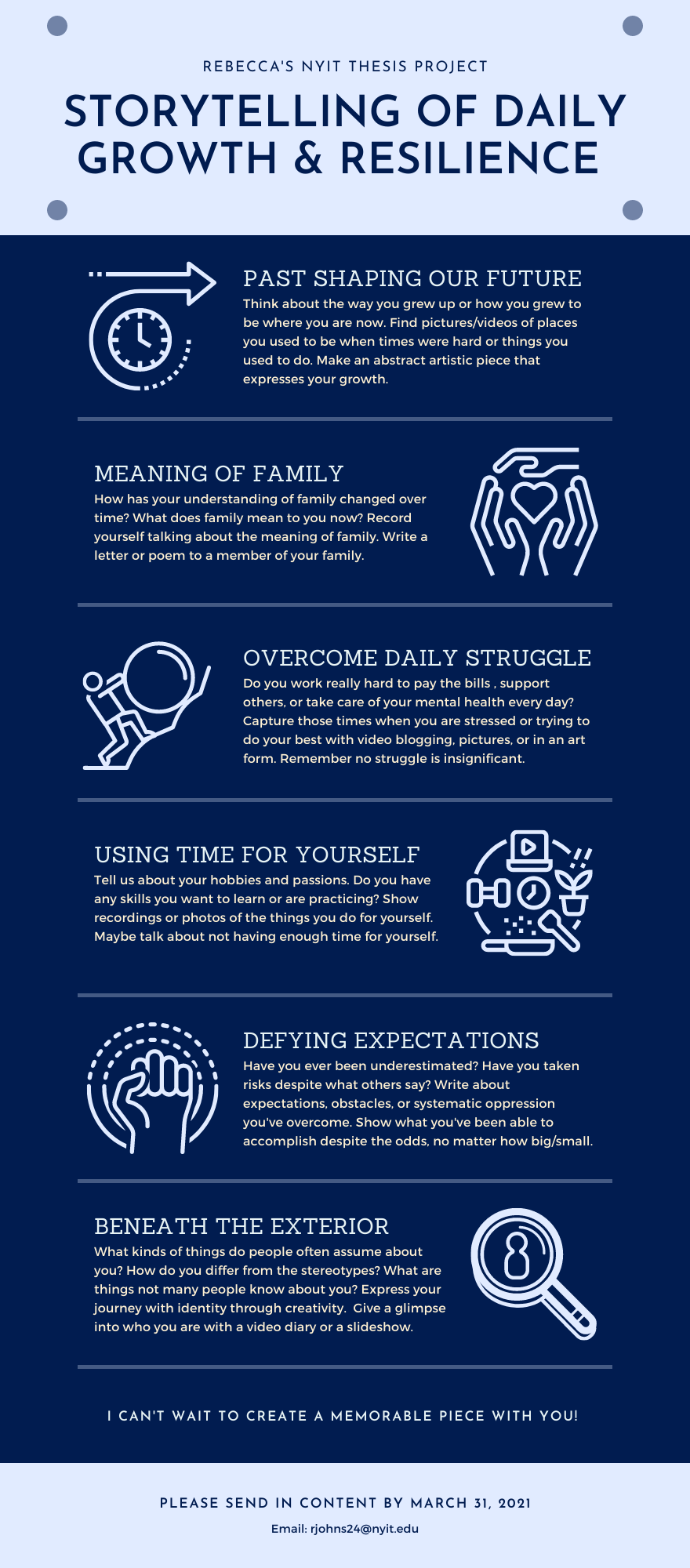 Content Prompts
After attempting to simply explain in general what kind of content I was asking for from my storytellers, I realized there was a lack of clarity that was slowing down their creating of content. This led me to creating a flyer that would provide not only prompt categories, but also real examples of how to express responses to those prompts. I then sent this to all the people I reached out to and got much quicker responses for setting up meetings about the content. This was a big step in the process and taught me to remember the ease of use even when it is something abstract such as submitting content by message or email.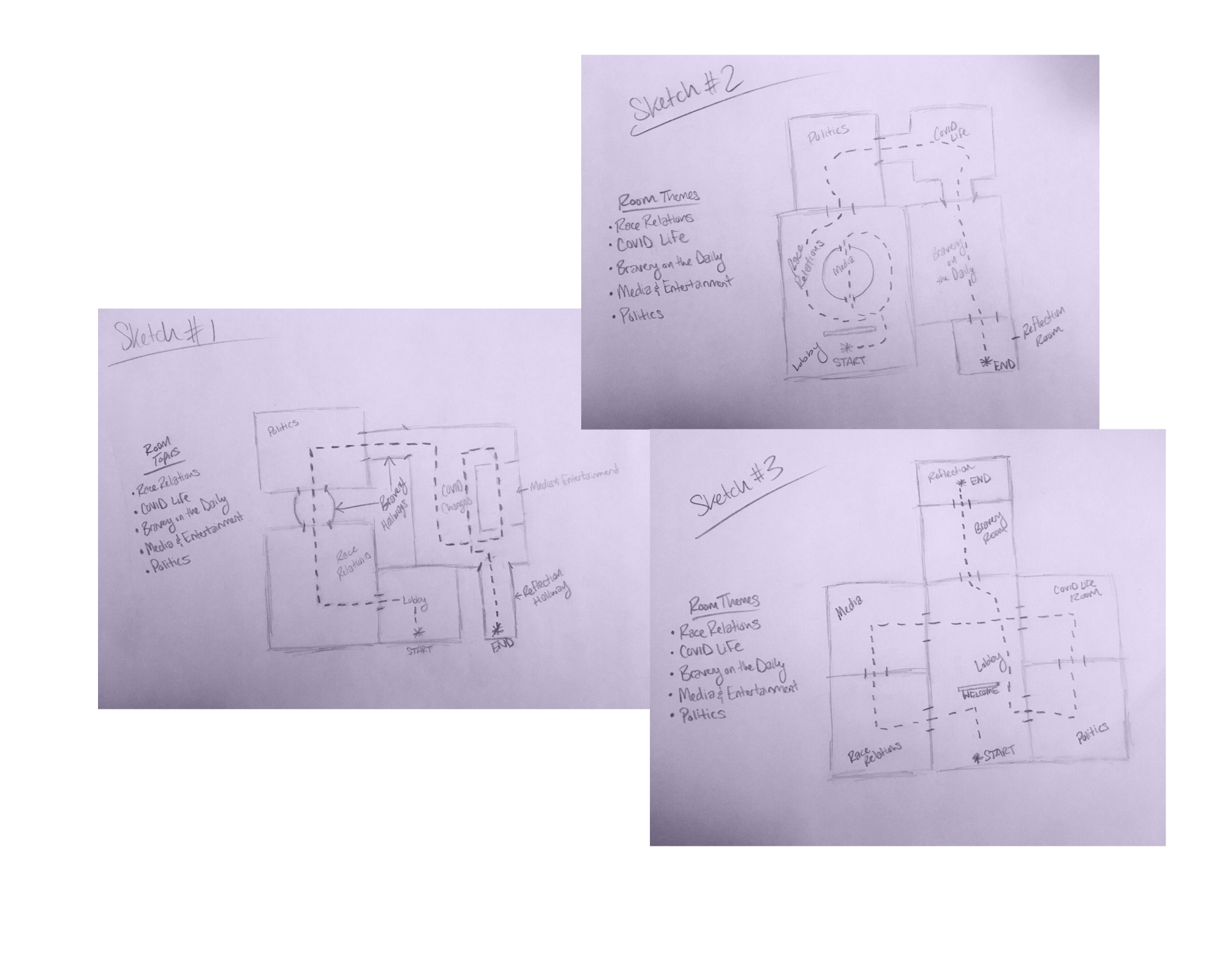 Beginning Floor Plan Sketches
Project is in progress. This case study will receive updates as it continues.