Rebecca Johnson
UX designer
Tardy App

An app to help productivity become a lifestyle for individuals by using tools and resources to keep track of and change habits
Tardy
An app to help productivity become a lifestyle for individuals by using tools and resources to keep track of and change habits.
Timeline:
2 Months
Team:
Rebecca Johnson

Essance Rudnicki

Ethan Boiangu
Role:
UX/UI Designer
Tools:
Sketch, Miro, Google Forms, Treejack, Photoshop, Illustrator
Challenge
Develop a project based on empathy, so we are no longer designing for ourselves but for the user. What problems can you solve?
Background
The group realized in our previous experiences we have had bad habits of doing generally unproductive things like watching YouTube videos or looking at social media. Just as we have habits of procrastinating, other people may have their own bad habits that they want to break. We believe many individuals would benefit from the ability to set a goal and track their individual progress over time so that they may change their bad habits and instill better ones in their place.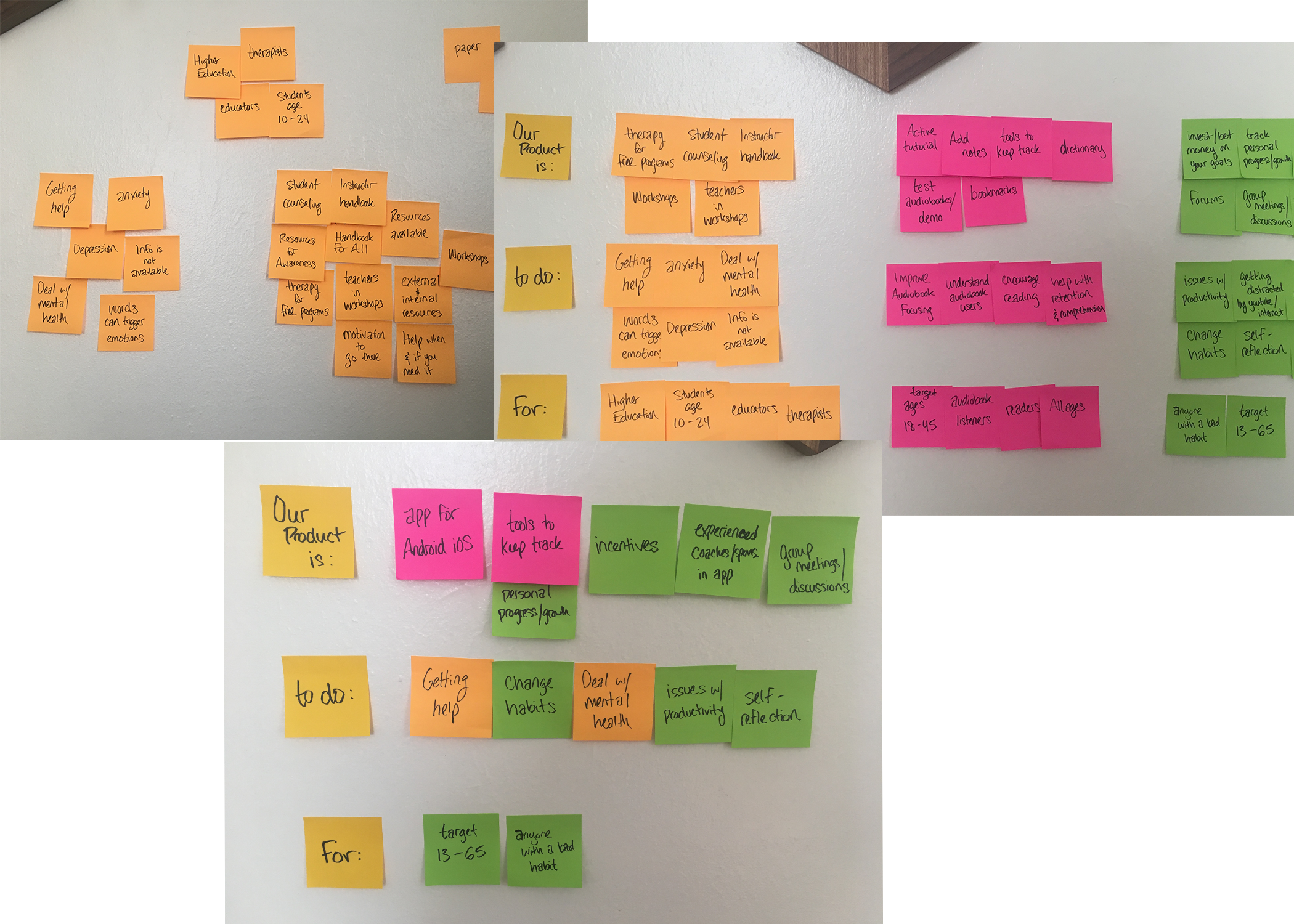 Brainstorming
In the beginning of our group project, the three of us each had a color of sticky notes that we used during a meeting to discuss what we thought our product would be, what it would do, and who it would be for. We then discussed all of our ideas and narrowed down the sticky notes to what we agreed was most important to focus on for the design of our product. We continued to meet at least once a week throughout the process to continue sharing ideas.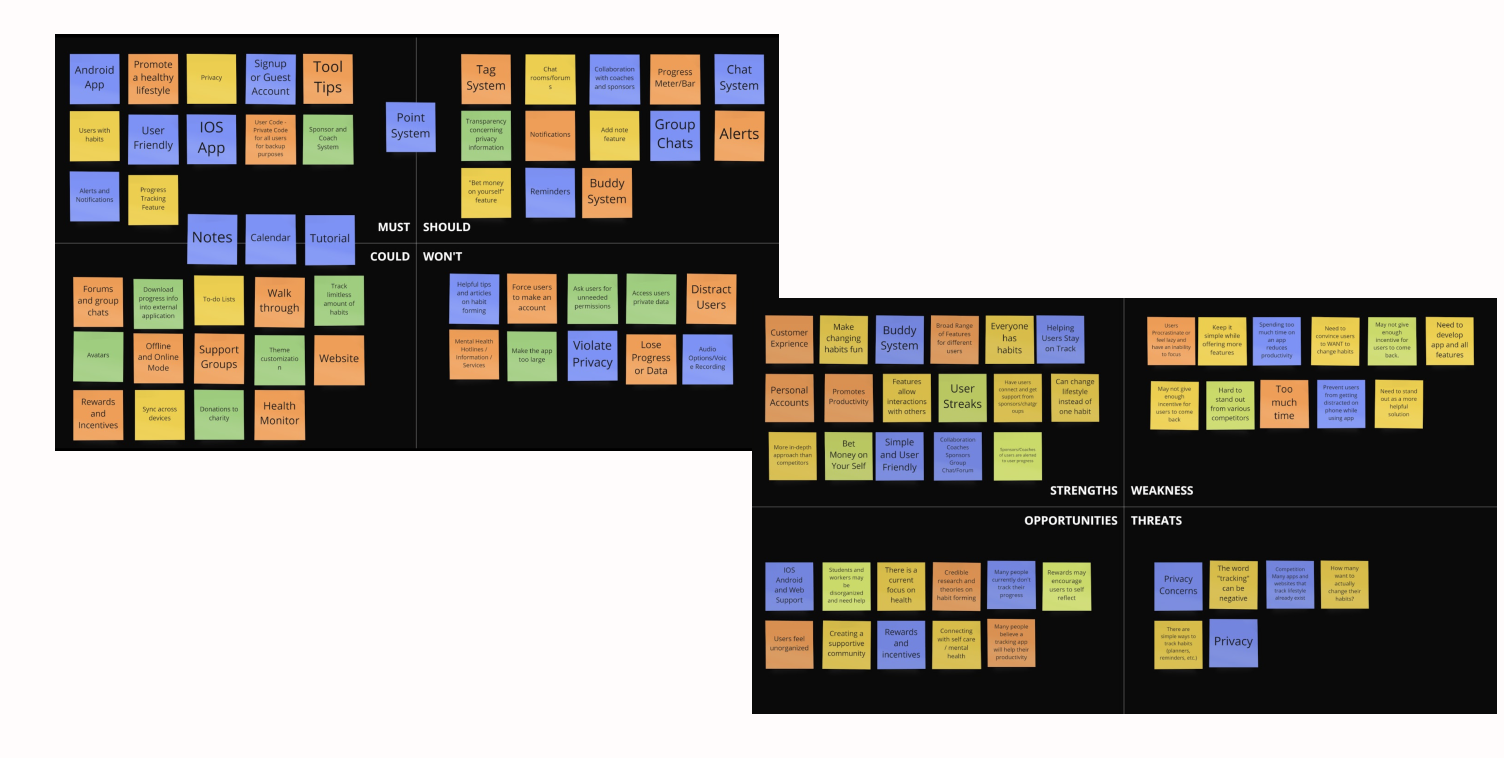 SWOT & MoSCoW
Each member of the team brainstormed the SWOT and MoSCoW of the product. We then had a group discussion of our ideas and created joint SWOT and MoSCoW mappings as you see presented here. Each member has a color for their idea and the purple are the overlapping ideas between us.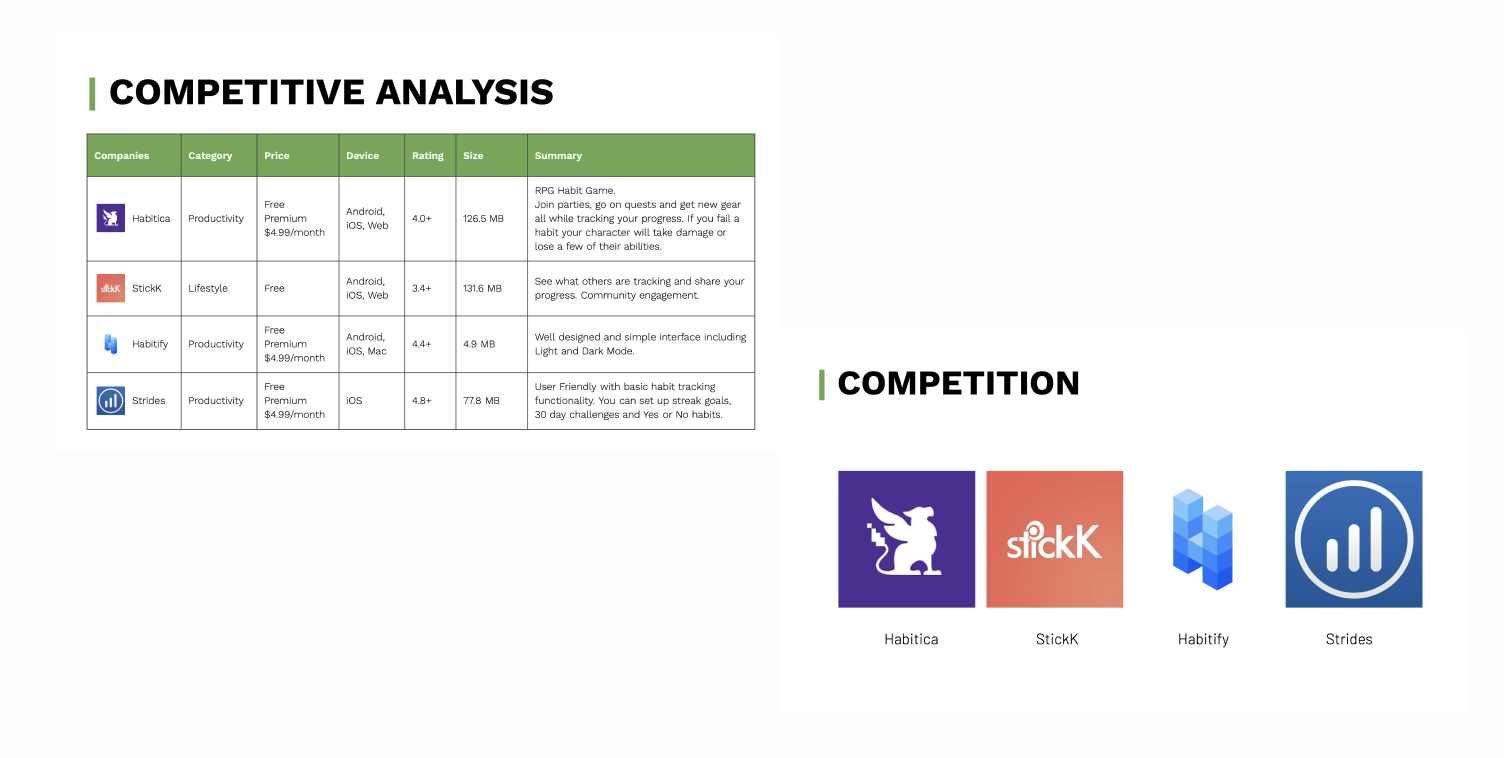 Competitive Analysis
We did research on current apps in the market that were focused on promoting more productivity and healthier lifestyles. These apps would be major competition to our product that focuses on similar life changing, habit evaluating content.
Goal
Help users keep track of bad lifestyle habits and effectively change them over time using tools and support systems.
Objectives
Hold users accountable for inaction and rewarding them for productive actions.

Help users make plans and stay on track with their goals and good habits.

Understand progress tracking app competitors and how successful they are in motivating users.

Find credible research and theories on habit forming.

Learn how to formulate/build a sponsor/coach program and get the right individuals involved.

Create a forum/group chat.

Focus on simple, clean interface with tutorials for ease of use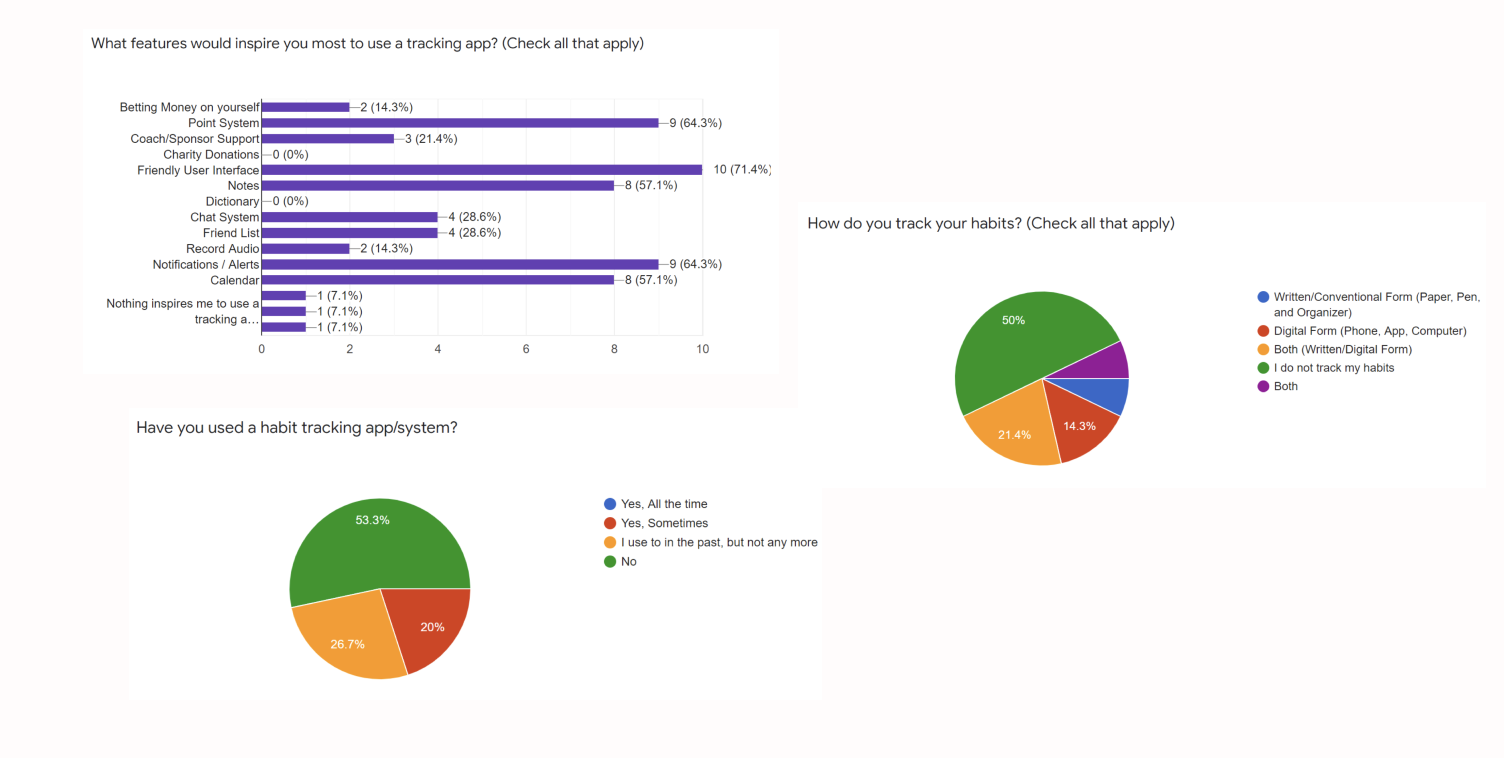 Surveys
We collected data from 15 survey participants who fit within our decided target audience. Using Google Forms, we created a survey to gather short answers on demographics, experiences, and important features. Our group used the data from these surveys in combination with the more detailed interviews conducted to develop an understanding of potential user personas.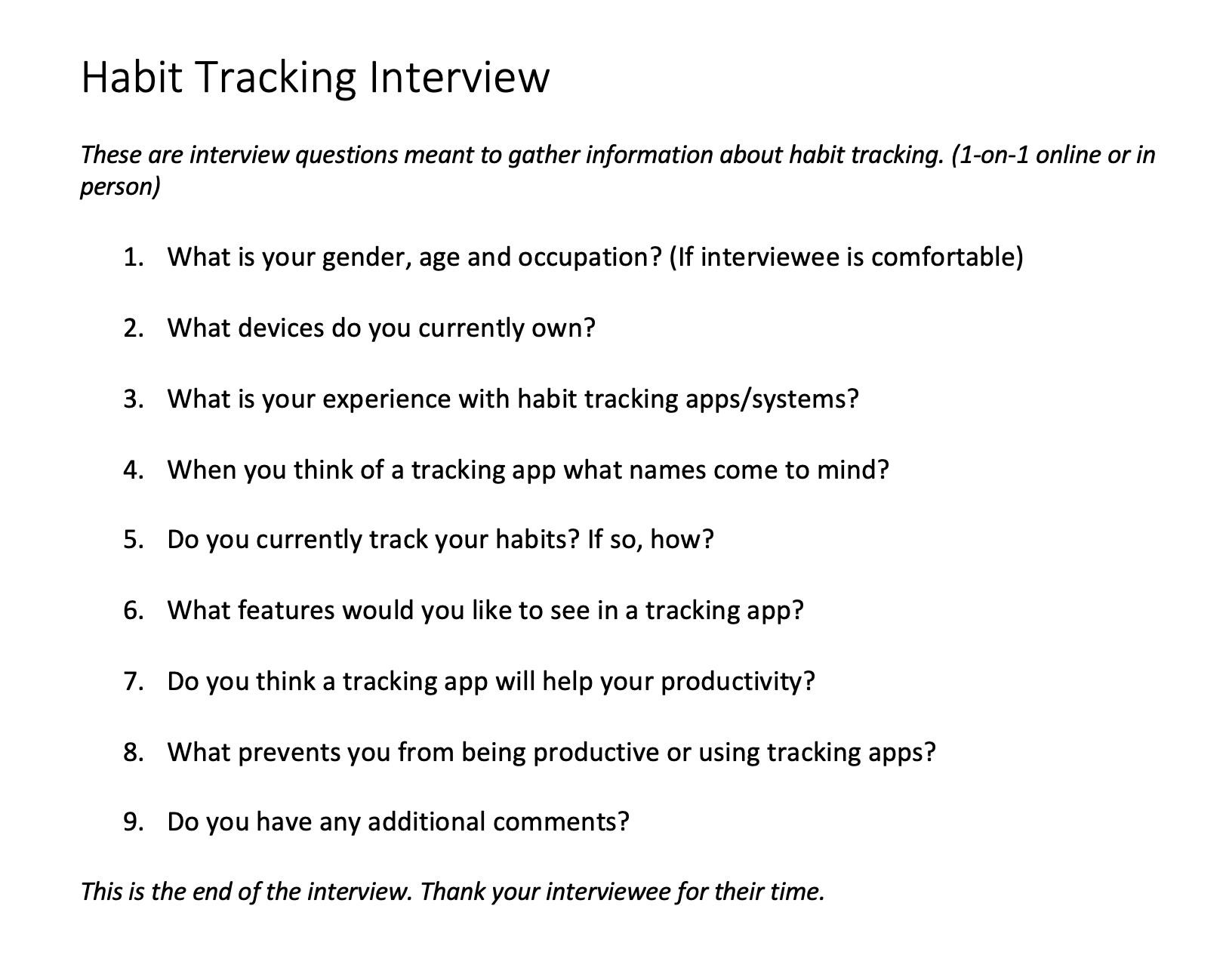 Interviews
We each found and interviewed participants to add more understanding of potential users. There were four interviews conducted in total and I interviewed two of them myself.
Main Insights:
Only half of the participants were currently tracking their habits

Half of the participants were interested in using a habit tracking app and thought it would be helpful, but the others thought it wouldn't help

Features participants desire: customization, notifications, task list, tag system, incentives or rewards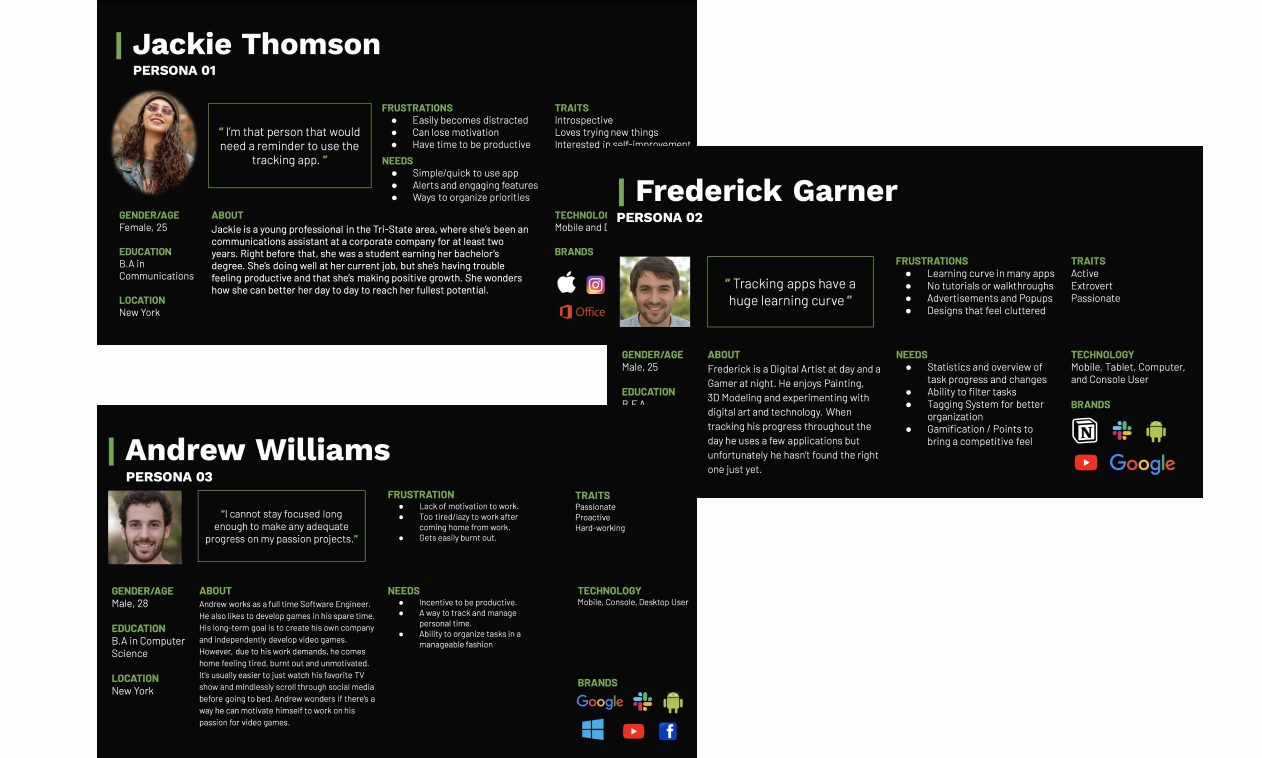 Personas
Based on the interviews we set up three personas. The persona I personally was in charge of was the one name Jackie Thomson to the left. This user is based on the people that want to grow to their fullest potential and need guidance and motivation. We attempted to produce personas that reflected different motivations for using our product. We referred to all of these personas throughout the entire product development process.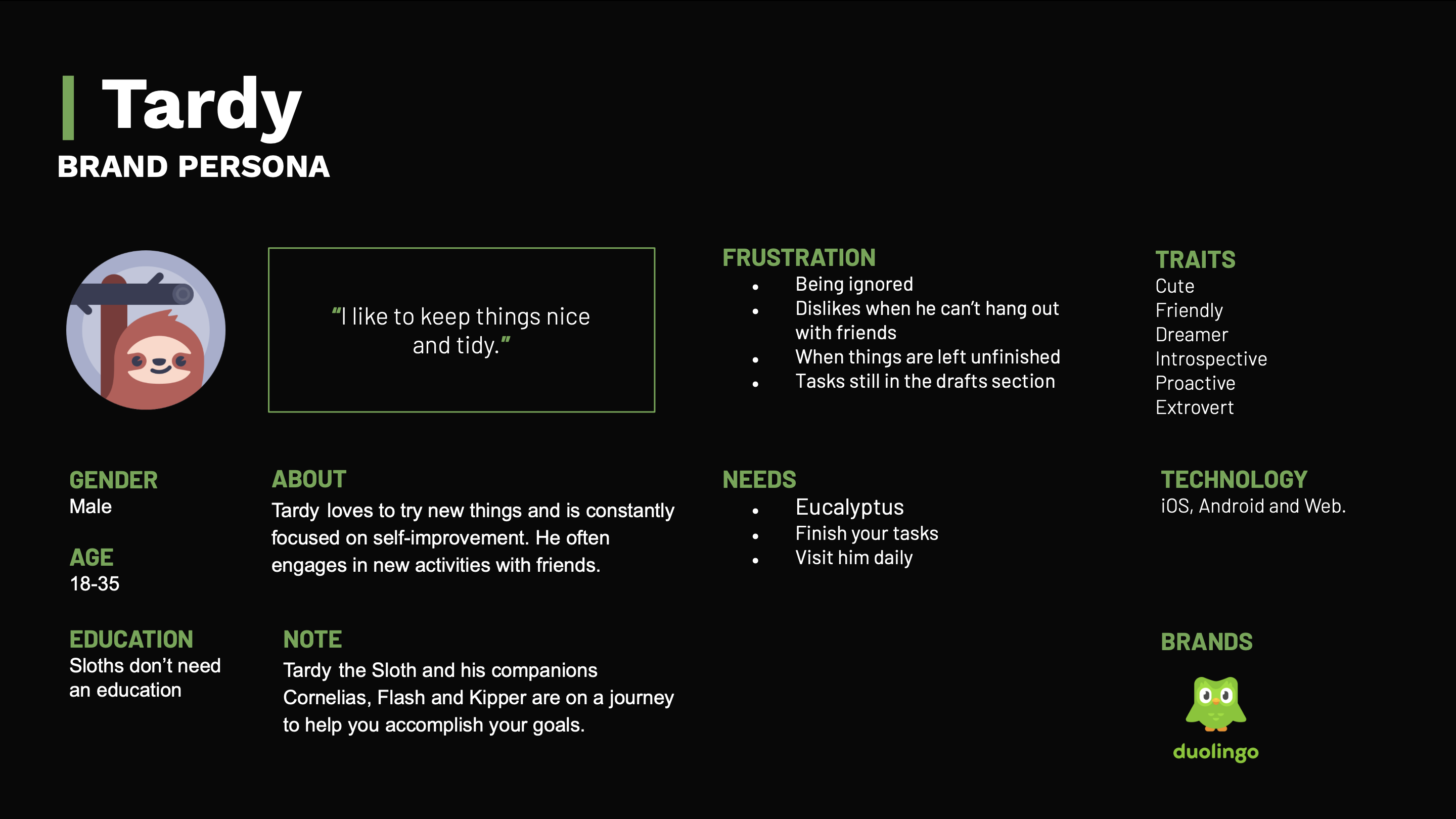 Brand Persona
Along with the user personas we created, we also came together to decide on our brand mascot and what its traits and personality would be in the app. We came up with the idea of a sloth since they are known to be slow and unproductive. This sloth's name was Tardy and he wants to change to a more productive individual as well. He would be in the app and users would be able to get eucalyptus leaves from meeting goals and be able to feed them to Tardy. He would also give gentle reminders to users that he needs to be fed, so users must complete their tasks and meet their goals. This will add a fun element to the app and motivate users to continue to engage.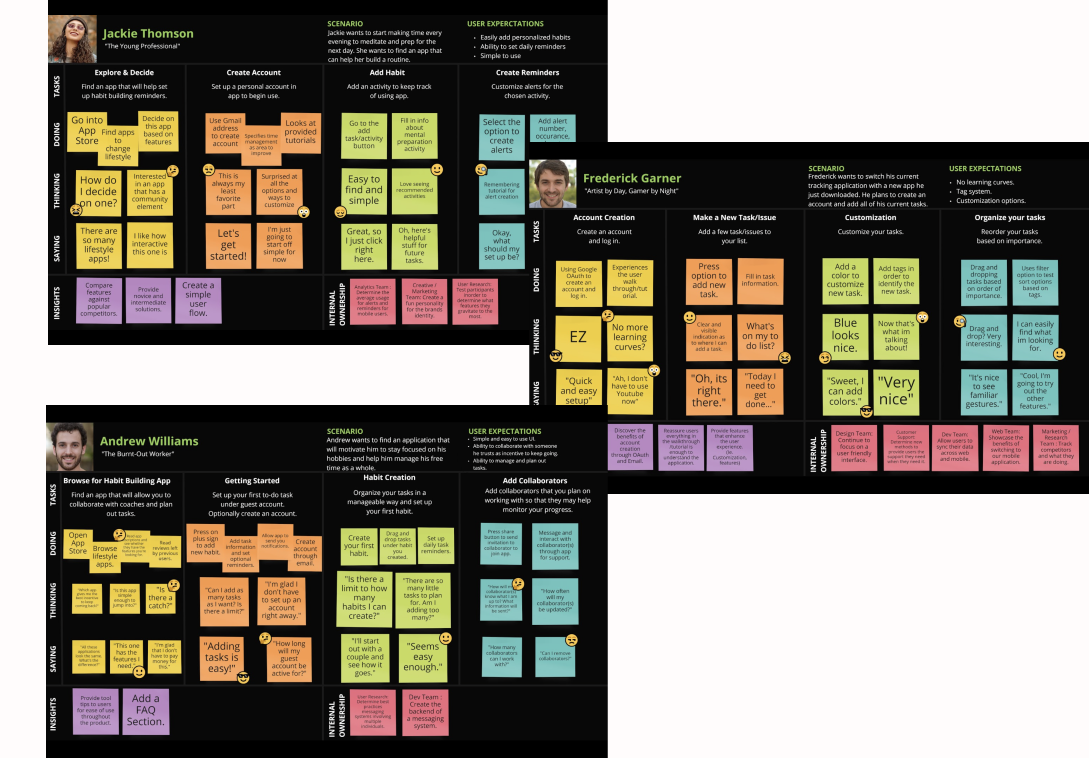 User Journeys
Using our personas, we mapped out the users' steps to see how we could simplify their journey with the product. Our tasks were reflective of the user persona's needs from the app. From there, we could think about how they would navigate completing their goal and what frustrations or positivity they might feel during that journey. This was important in discovering key features and needs for the products development.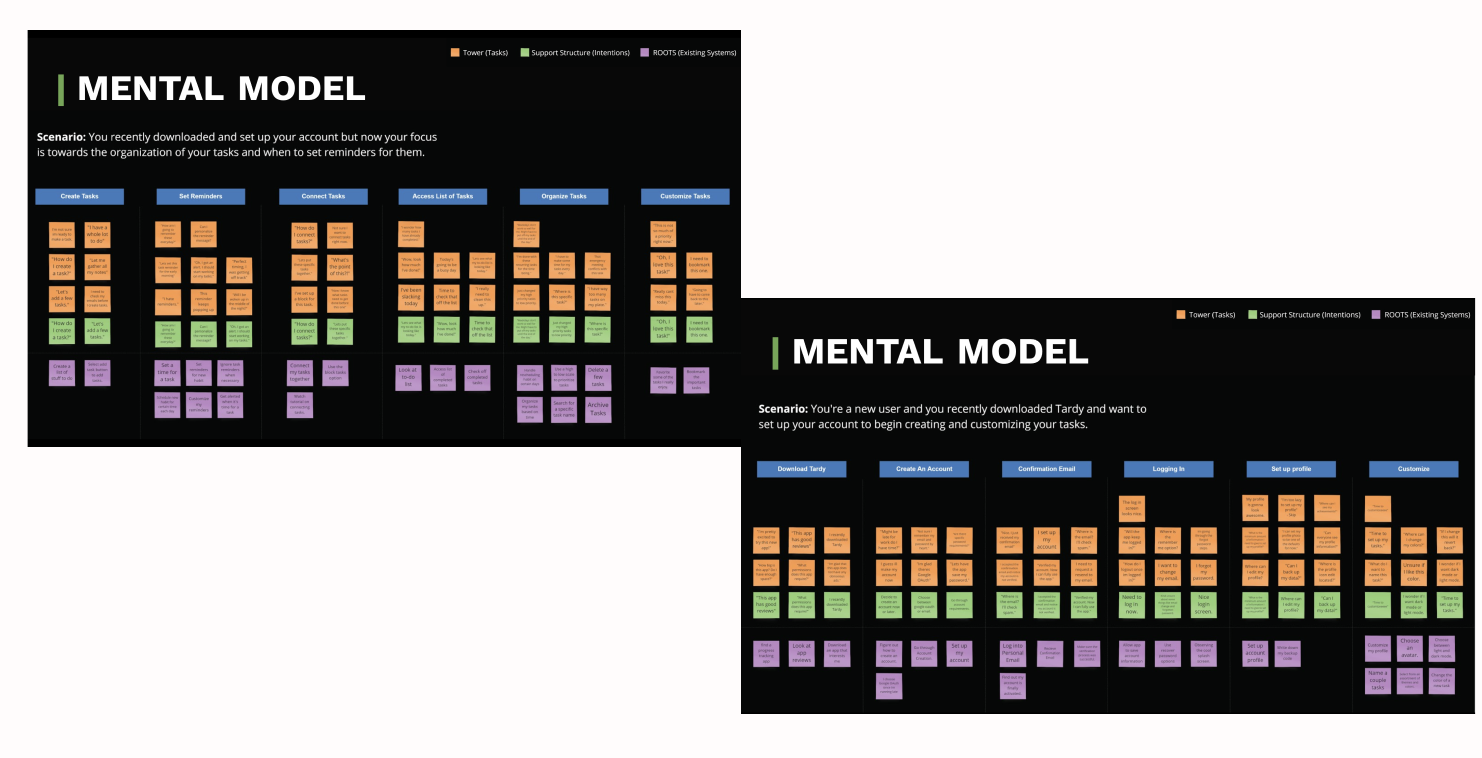 Mental Models
To further break down how potential users would navigate our product, we created mental models of key tasks that users will complete in the app. From creating an account, customization, organizing tasks, reaching habit goals, sharing, and connecting with others, we considered the user's actions and intentions. For each task, we also thought about the existing systems that could be used to help the users accomplish those tasks.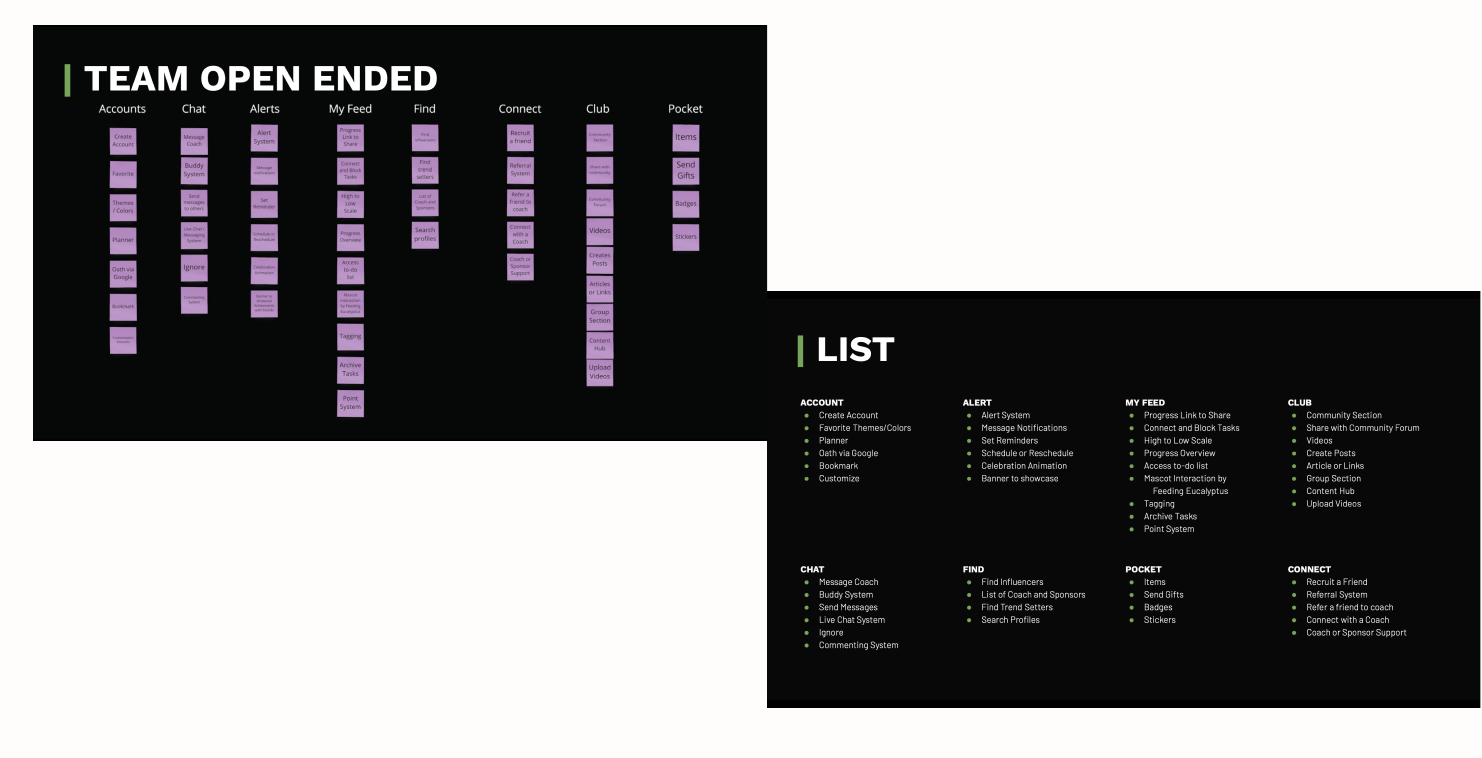 Card Sorting
We did not want to simply come up with the sections of the app structure ourselves without considering our personas and the research on their journeys. Therefore, we had 6 participants organize a closed-ended card sort. We then gathered to complete an open-ended card sort as a team decide where and what was important as its own section while using the results of the participant card sorts. After the sort was finalized in the meeting, we put it together in an organized list to guide further designs.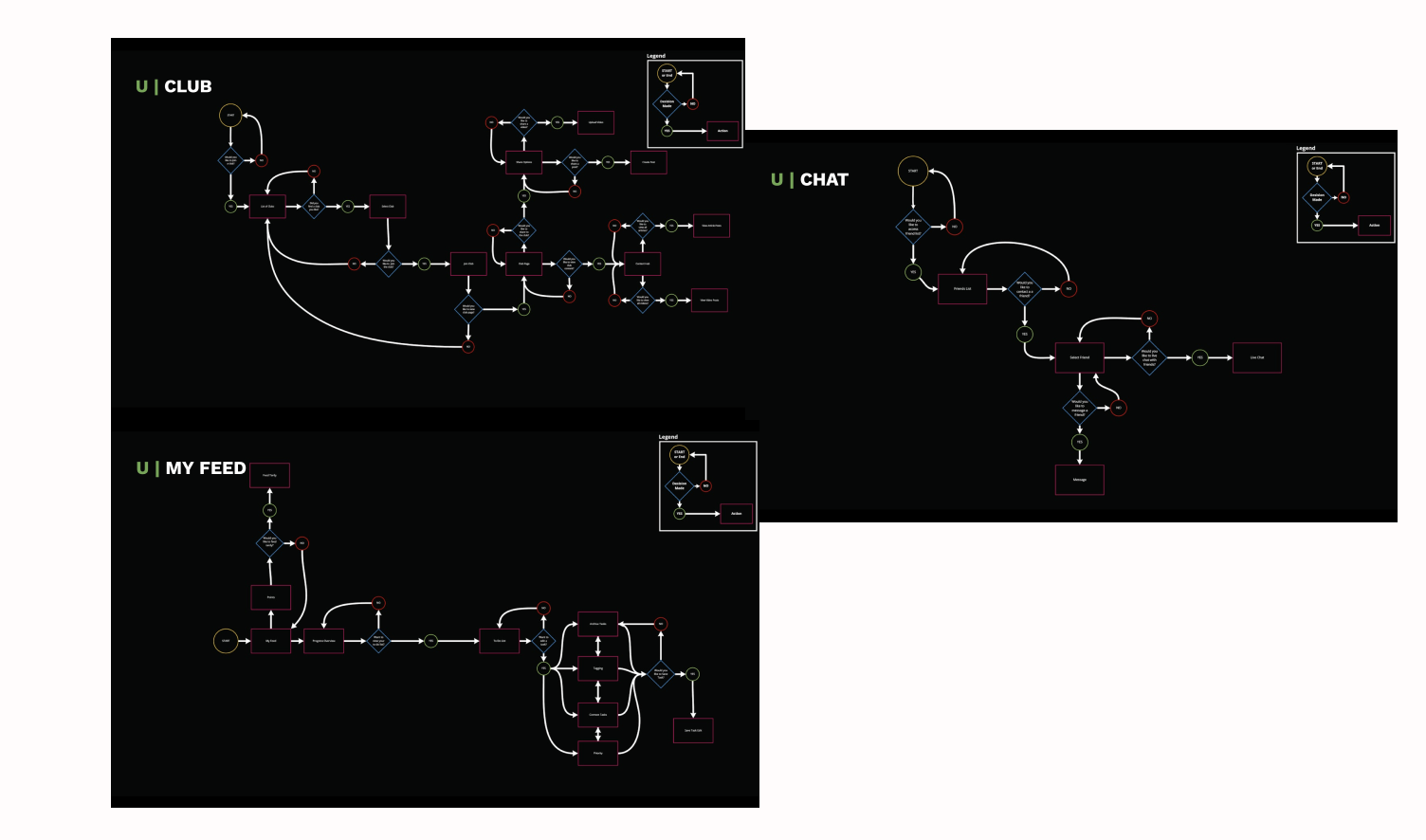 User Flows
Here, I included only three of the nine user flows our team created for the different sections of the app that were previously decided. We used common flow chart elements of start/end termination circles, decision diamonds where needed, and rectangles for actions taken. I have shown the mapping for joining a club, starting a chat, and accessing 'My Feed'. These are the three user flow charts that I personally mapped out.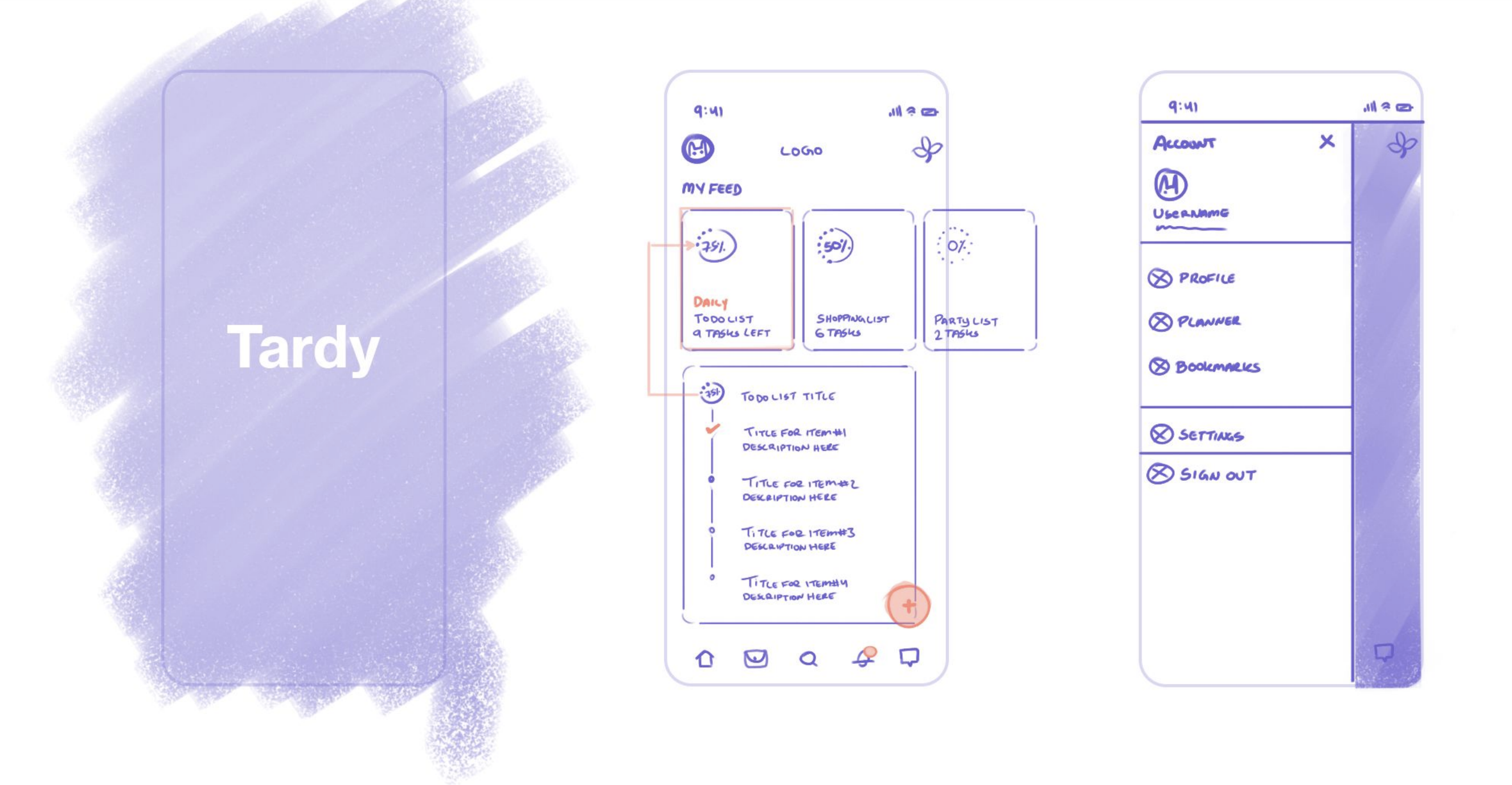 Sketches
We started the interface designs by creating sketches of the layout and how our brand identity might manifest itself on the screens. We considered the details of our personas we uncovered throughout the journey as well as our brand persona we developed earlier. Out of the sketches we each drew, these sketches by our teammate, Essance, were decided on based on her choices that brought unique character to the design. We were particularly pleased with the incorporation of leaf icons and animal avatars that played on our fun brand persona decisions.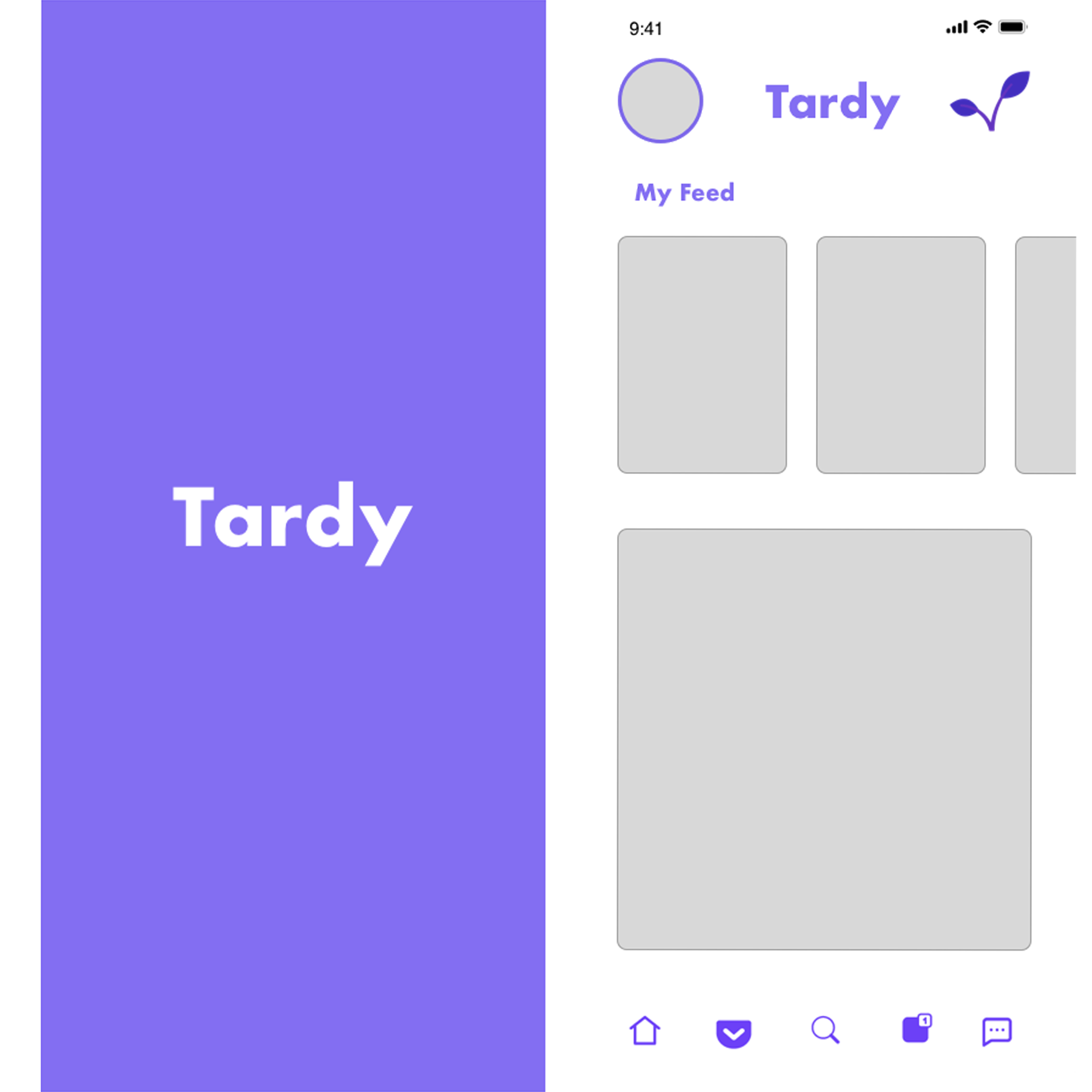 Wireframes
After our sketches were discussed, we moved into wire framing. I took the sketches shown in the previous section and mapped out the layout in Sketch. The leaves in the top that represent the rewards of eucalyptus leaves that you feed the a sloth named Tardy, the brand mascot, were created with a combination of Photoshop and Illustrator. The screens we created wireframes for were limited since they were only to present our ideas for design if we were given more time to move forward in development.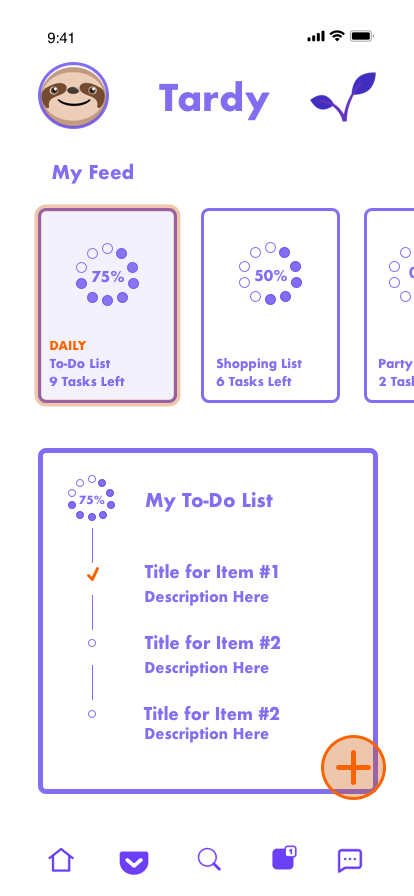 UI Design
Finally, I used Sketch to turn the few wireframes we had into a prototype for presentation purposes. We had decided on a light visual iOS style and the purple and orange color scheme to keep with the fun, simple and productive theme of the app. I particularly enjoy the game-like feel of the app that was intended to make the experience entertaining while fulfilling very serious goals for the user regarding self-improvement. There was some concern regarding the 'Pocket' section of our app having a limited connection to real world recognition. However, I believe it adds to the unique gamification aspects of this app when compared to other productivity apps we explored. The story of a sloth named Tardy who is trying to improve his habits and gets rewards of one of a sloth's favorite food, eucalyptus leaves, is engaging and relatable. I think this design fits in very well with that story as well.
Here are the key takeaways from my role in this project's process:
Firstly, I realized how beneficial having multiple minds to bounce ideas off of is for the research process. Entire ideas about what was needed as far as features or content mapping changed drastically once we all got together and started discussing our opinions.

A major obstacle during this process was one I'm sure others have been facing as well. Quarantine and the COVID-19 virus meant that our group had to meet and conduct our research and design process remotely. While difficult, we found it most important to have continuous discussion through virtual meetings or messaging and support one another throughout the journey.

This was my team's first time working together and we had only met a week previously, so once interesting part of the project was getting to know how each person communicates and their creative thinking. My teammates were very organized and provided helpful insight, which was greatly appreciated.

I know my team expressed the same during our last discussions together, but I wish this project had more time so we could have moved into the iterations of the design process as well as usability testing.