Rebecca Johnson
UX designer
At its best, mentoring can be a life-altering relationship that inspires mutual growth, learning, and development. Its effects can be remarkable, profound and enduring; mentoring relationships have the capacity to transform individual groups, organizations and communities
ourNOW
A mentorship application to connect recent graduates in the New York City area with mentors in order to learn skills, receive resources and network in different fields.
ourNOW stands for "Our Neck of the Woods". This was inspired by a desire to foster a sense of community and belonging. This saying is commonly used in my home region of the South to talk about where you come from.
Timeline:
7 weeks
Team:
Solo Project
Role:
UX/UI Designer
Tools:
Figma, Miro, Usertesting.com, Photoshop, Illustrator
Challenge
Create a product that considers user empathy as a main goal. Complete rapid prototype designs for the product in seven weeks.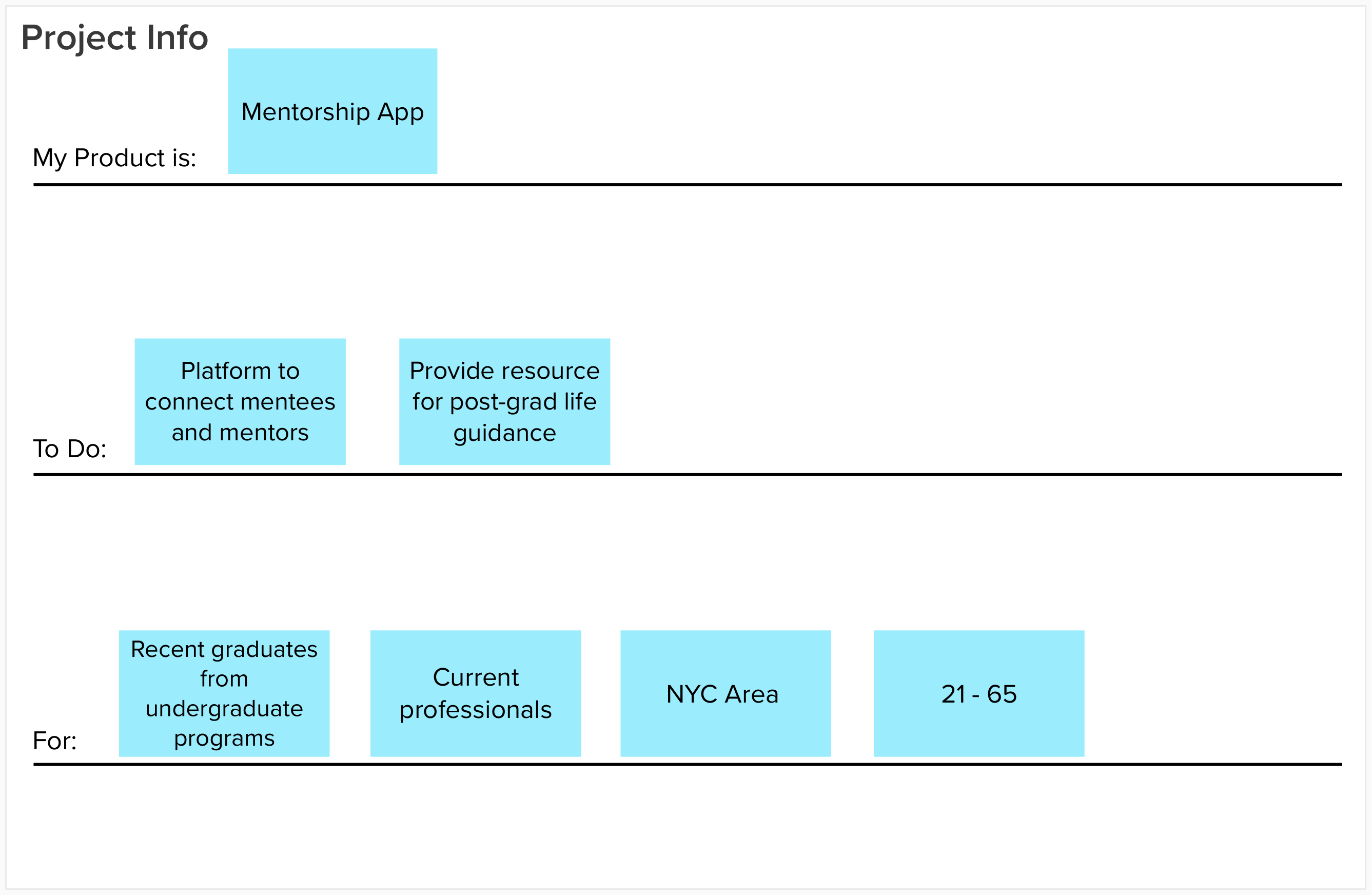 Why mentorship?
I graduated from undergraduate college a few years before beginning this 7-week project, but I had hands on experience with the problem guiding it. I kept hearing from individuals who graduated with me, after me, and even before me that most people go through the process of "figuring out the real world" on their own.
While it can be encouraging just to know that everyone is in a similar situation as you struggle, I believed what would have been most helpful was to get actual guidance and resources from established professionals who had "figured it out."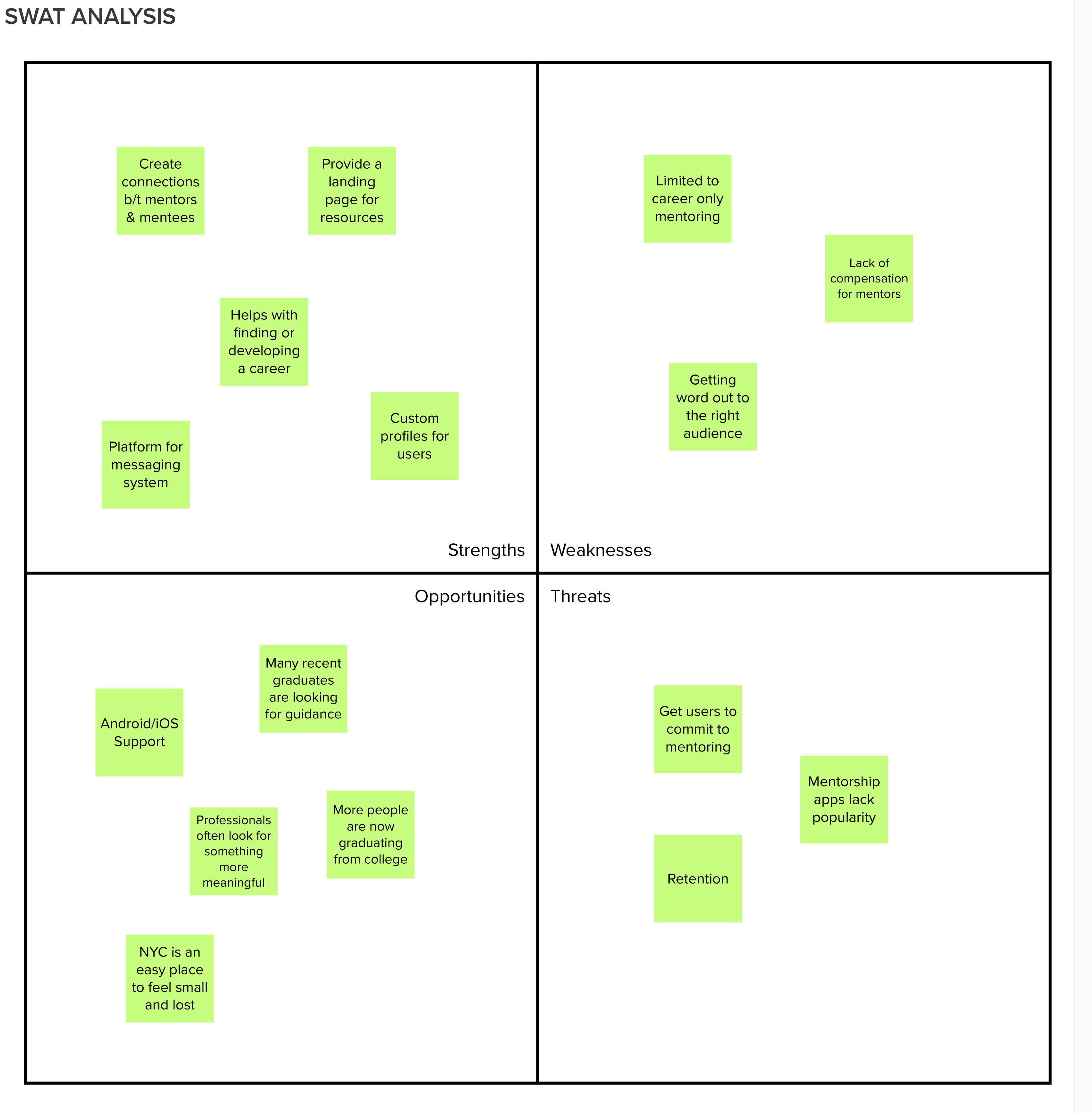 SWOT Analysis
During the brainstorming process, I used sticky notes to consolidate ideas of what will be the app's strengths, weaknesses, opportunities, and any threats. I then put those in a digital format using Miro.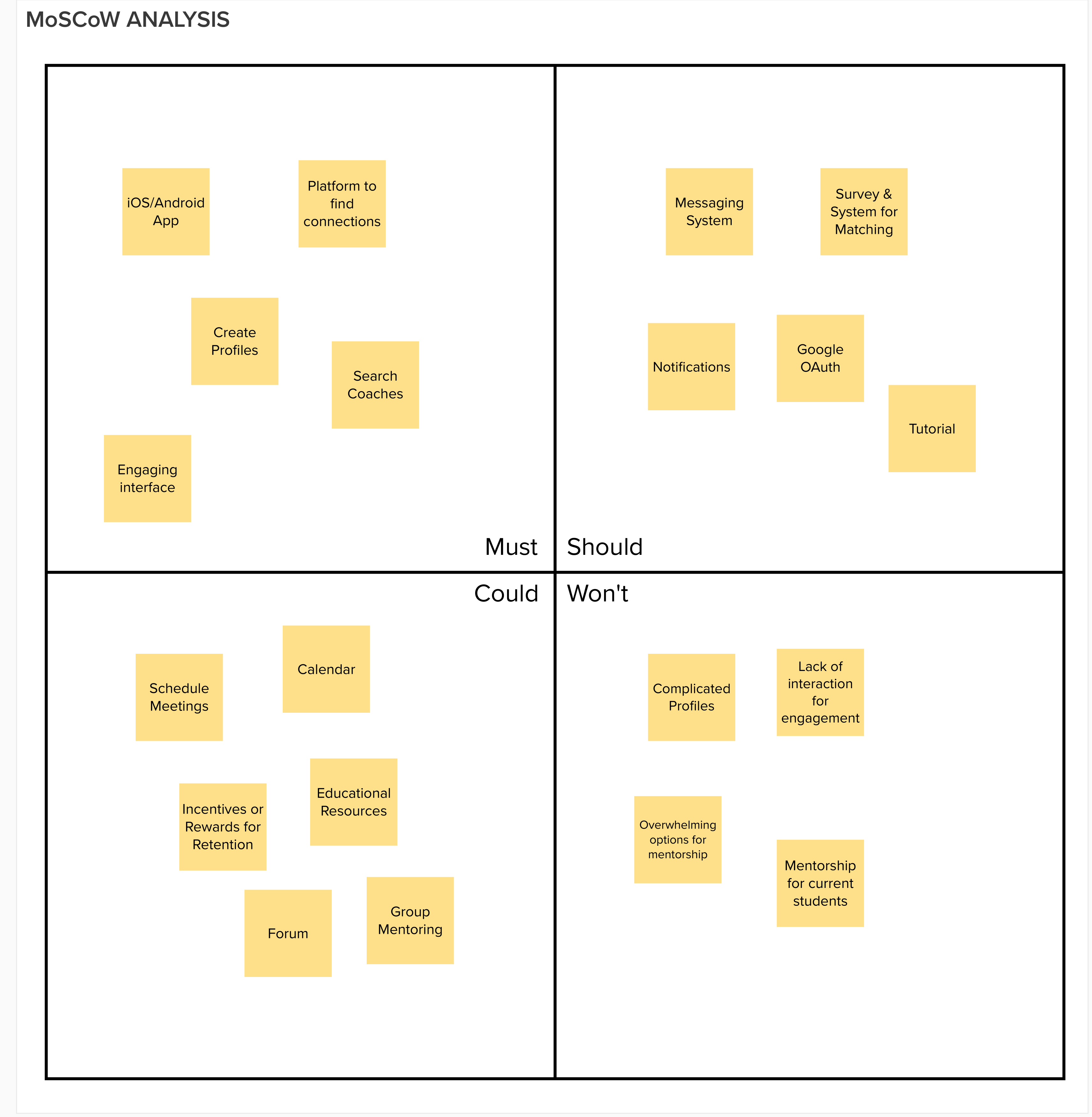 MoSCoW Analysis
I also thought about the must haves, should haves, could haves, and won't haves of the application before beginning designs.
Main Goal
Reach out to recent graduates to provide mentorship from experienced professionals who share similar skills and interests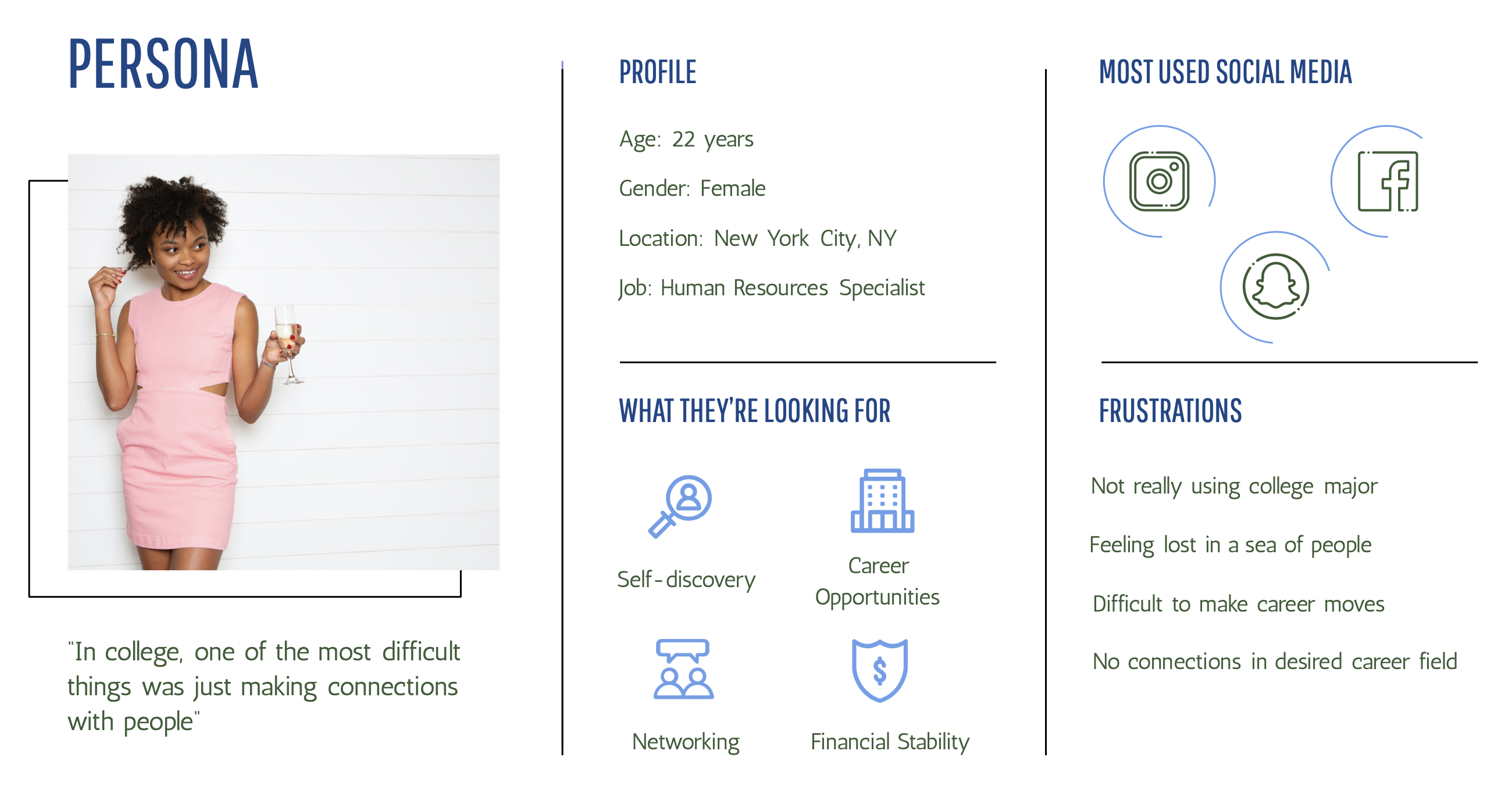 Persona
After research on the need for mentorship expressed in articles, blogs, and forums as well as evaluation of recent graduate lifestyles in New York, I created a user persona. Since it was too be based on the New York City young adult population, diversity was also an important factor that was considered. This persona was used as a guide through the design process.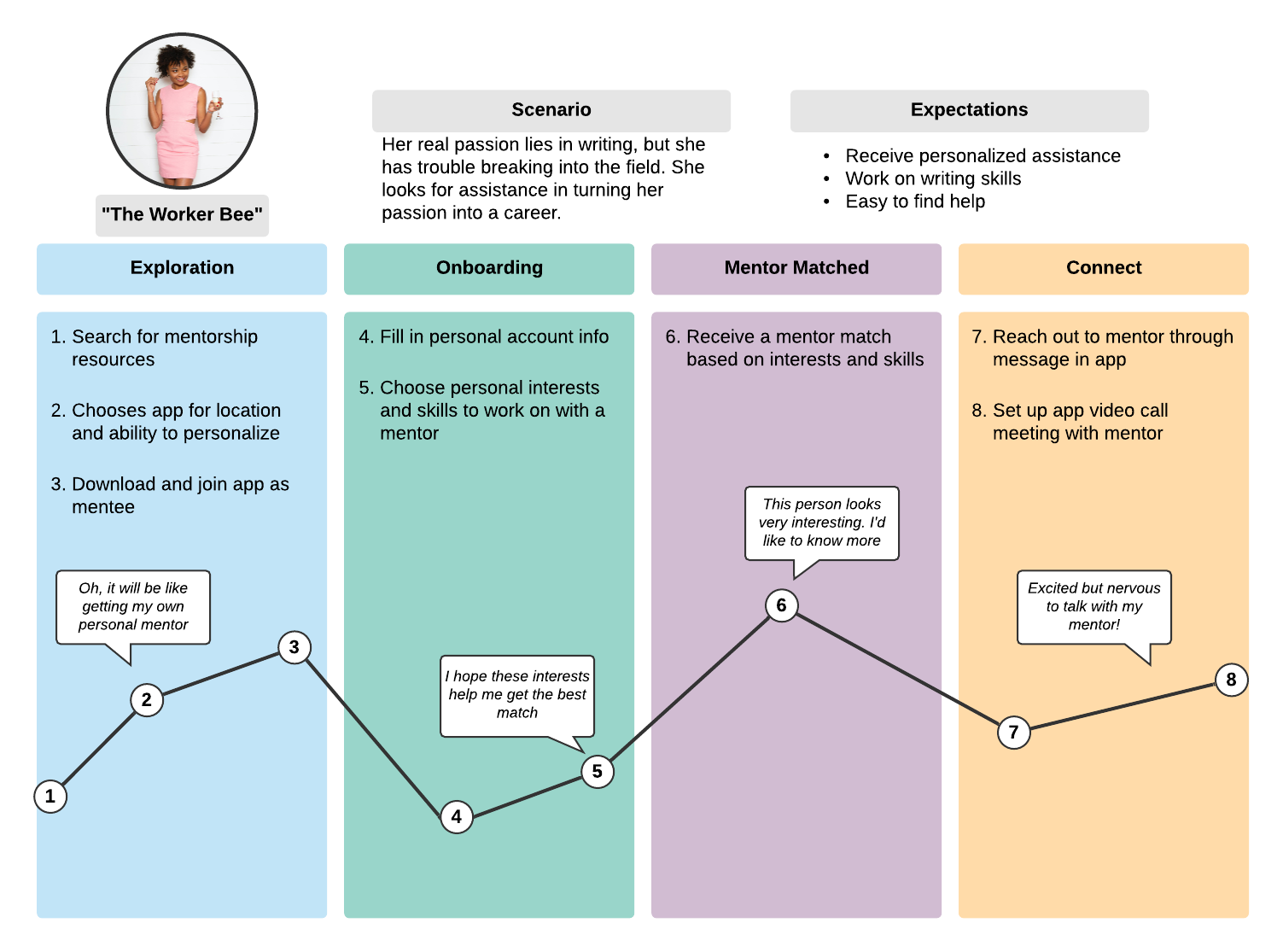 User Journey
I wanted to think about where a user would be coming from mentally and emotionally when they use the application, so I made a user journey map based on the persona.
Before doing this process, I had the idea that the user should just log on and look for a mentor that is a good match for them. Thinking about the thoughts and possible journey made me realize many of the target users already put in a lot of time to figure out next steps, so it would be better to simplify the mentor search with a matching process.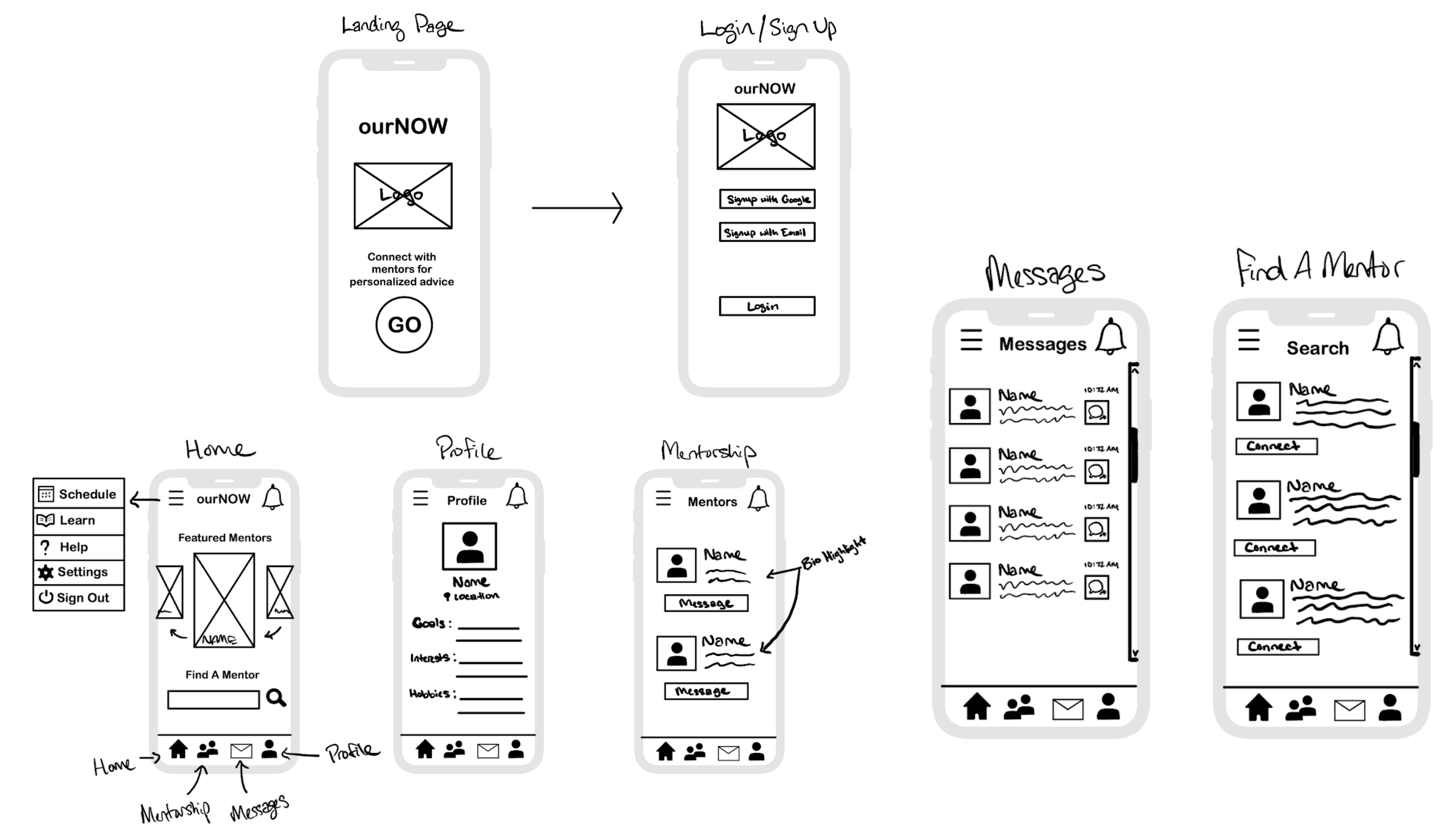 Sketches
I usually start the design process with sketches of my first ideas for the product. During this stage, I consider what the main objective will be and how the user will accomplish it. I was still trying to figure out what the matching process would look like and how many features were needed. I drew these sketches on an iPhone template on my iPad.
Key Takeaways:
Is the dropdown menu necessary?

If the messages are in the bottom navigation, does there need to be a separate notification bell?

How can this be quick and simple to use?

Need to create onboarding process

Need to think about the video chat feature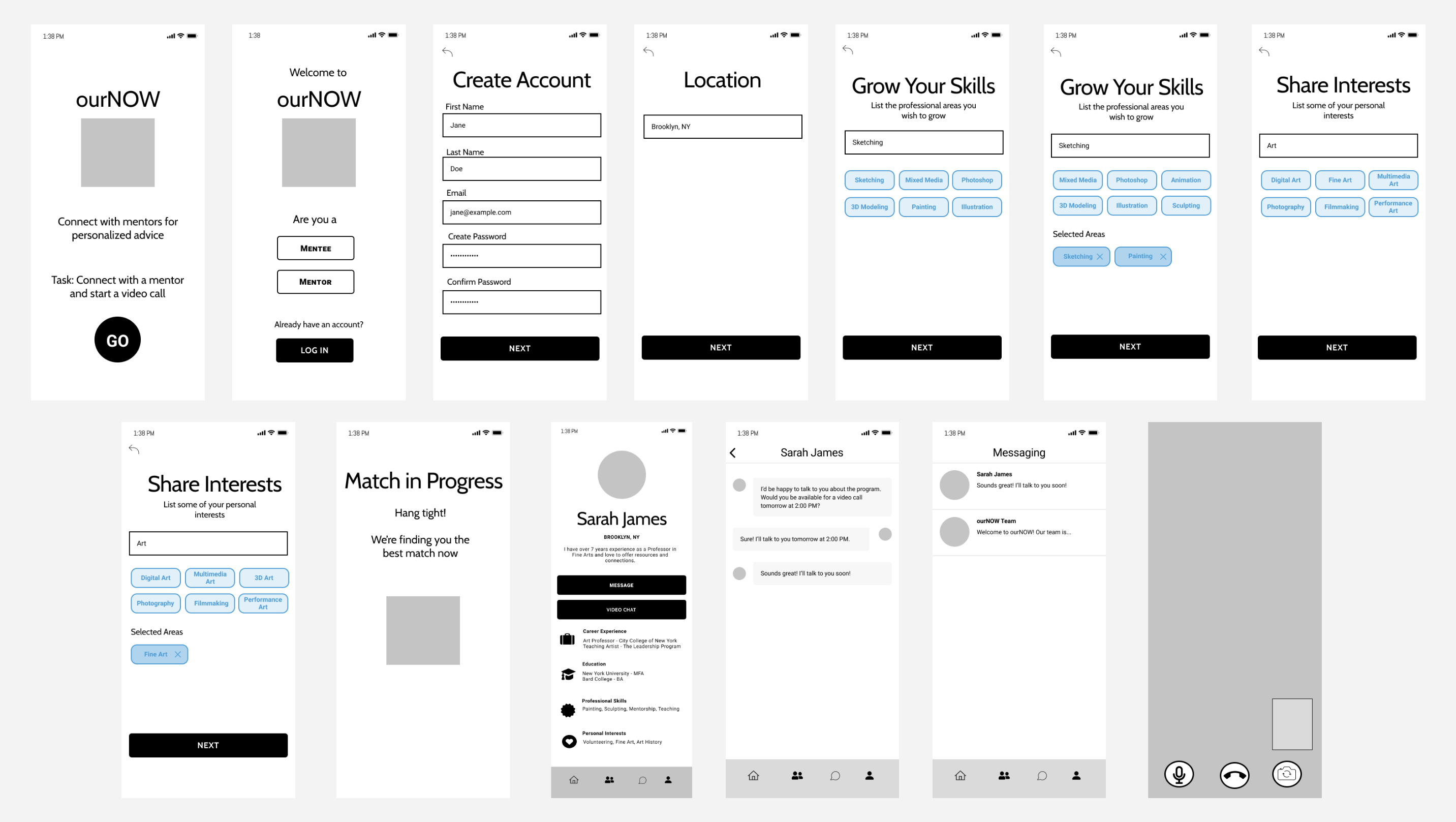 Wireframes
Example
After getting feedback on sketches, I started with wireframes. I went through multiples stages of wireframes to get the ideal onboarding process that would streamline a personalized match. These wireframes were created in Figma.
Key Takeaways:
Focuses on completing the goal of finding and connecting with a mentor

Keep process clean and simple

Will need to make sure all the elements lead somewhere for testing

Start thinking about branding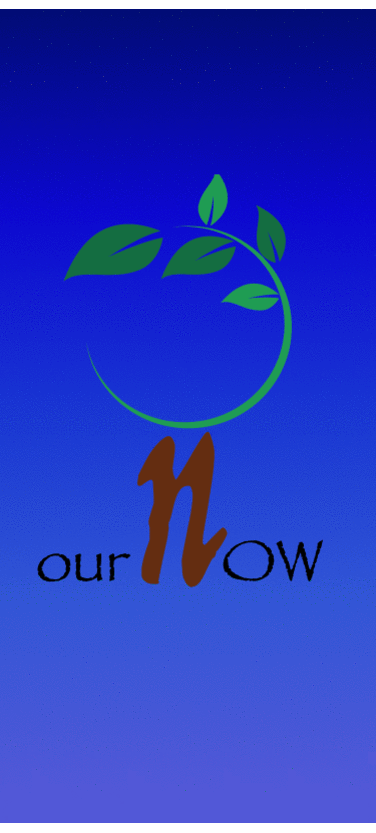 Prototype Iteration #1
For this stage of the process, I worked on color palettes, logo designs, and adding stock images and interactions to my prototype. I started off with a shades of purple for the app, however I ended up settling on a blue palette that felt more suited to the clean career focused goals of the app.
Key Takeaways:
Create a logo that ties in with themes of growth

Decide on stock images that highlight diversity

Create an idea of what profiles of mentors and mentees might look like

Added more screens to connect give more complete experience for testing

Will use these designs for official user testing
User Testing
While doing the first round of designs, I gathered feedback from several user tests in order to reveal possible usability problems. I used Usertesting.com to and got results from three different participants on designs.
Specifications:
Test was unmoderated and remote

Tests lasted approximately 20-30 minutes each

Participants were between ages of 21 and 30

Participants graduated from an undergraduate university/college

Participants have not had a mentor during or after college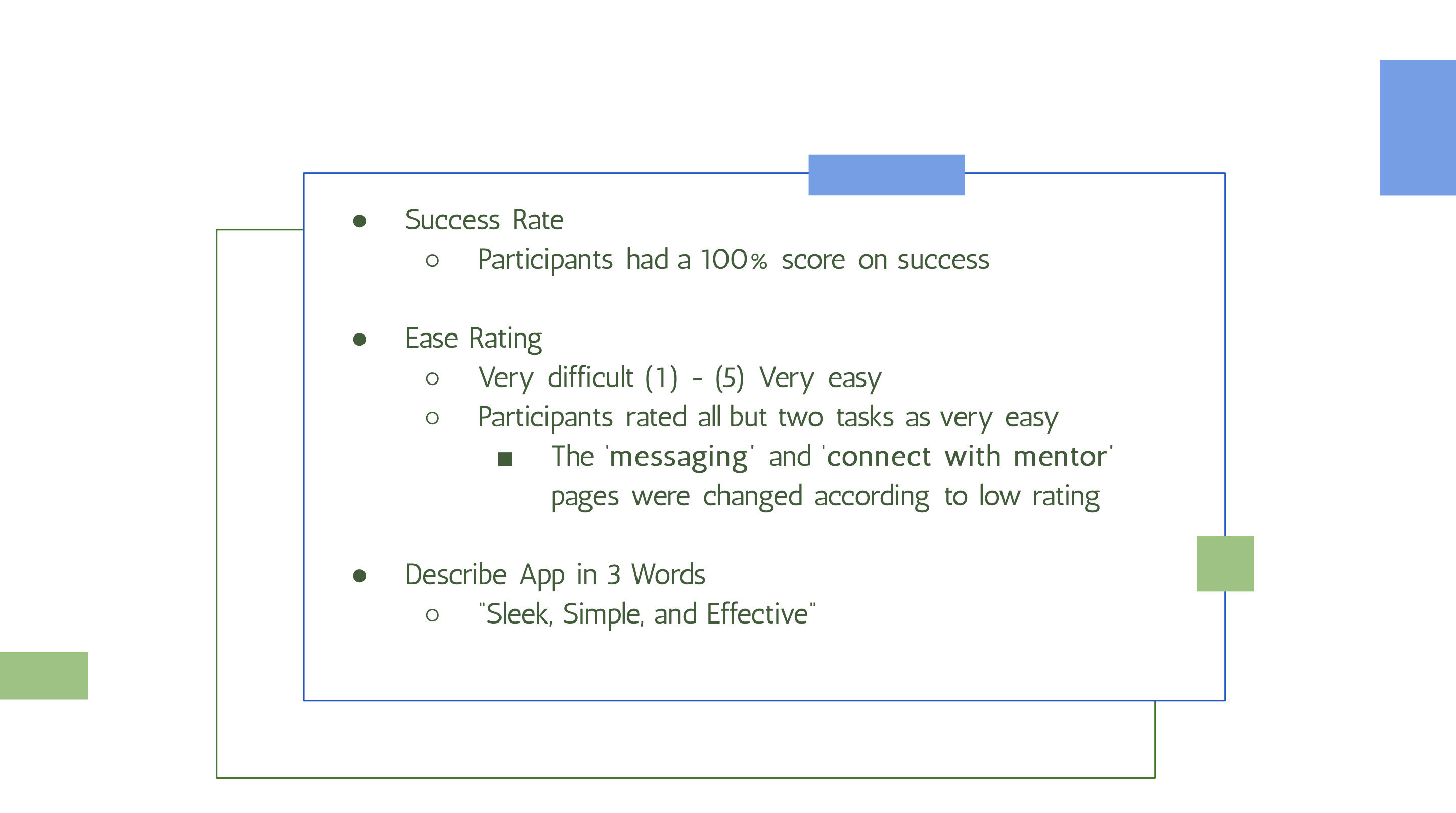 Prototype Iteration #2
Example:
After doing several design changes for the three rounds of testing, I started designing the final screens for the project in Figma based on all the feedback.
Key Takeaways:
Allow users to view matched mentor profile before connecting by changing "Go to Profile" to "See Profile"

Remove the word "adulting" that participants found unfamiliar in the app description to focus on describing the personalization aspects

Change the "Match Found" page to a brief confirmation page instead of another step users have to click through

Use the iOS style in a light mode design

From the first test, I realized how important the simple and clean design was to users, so I kept that direction
This was my first solo app UX design project and it was a great learning experience. This mentorship project was one I have been wanting to make a reality for a while, so I loved designing one of my passion projects. My hope is to make it a full nonprofit company in the future to help new graduates around the country.
I appreciated all the of feedback I received at each stage from professors, but it was especially rewarding to hear how actual users felt interacting with my designs. The responses also helped me focus more on simplicity rather than giving extra features just because I wanted to cover everything. Other features can be added after users are able to start using the core functions of the app and further testing is completed.
If I were to continue with the project:
Design a dark mode version of app for accessibility

Try more interaction design to include in the app

Design for Android as well

Think more about how users would search for interests and skills

Continue with designs and further user testing, hopefully with a fully developed app